How did our global supply chains get here?
The pandemic has shown how interconnected global supply chains are. The historic problems are not unique to any industry or type of business. The situation is very difficult for everyone. These recent images of the cargo ships waiting at anchor outside some of the world's most important ports tell part of the story.

The Big Factor: Consumer Demand
But port congestion is just a symptom of the larger problems at play. The present challenges started with consumer demand. Although demand for goods dipped starting in March 2020 during the early days of the pandemic, it quickly rebounded to above pre-pandemic levels by June 2020 and is continuing.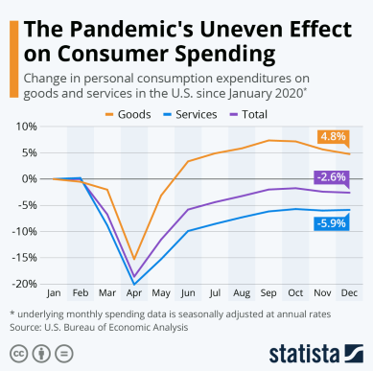 Other Factors :
Supply Chains Have Not Recovered To Keep Up
This imbalance of demand and "broken" shipping networks has set off a chain of events for global supply chains that the industry is still trying to overcome. The effect of five years of ocean carrier consolidation and the creation of only three shipping alliances controlling 95% (just eight companies control 90%) of global capacity.
Not Enough Space On Ships
Capacity was taken off-line pre-pandemic. The trend had been for accelerated scrapping of older and smaller ships beginning in Q4 2015. Presently, with demand sky-high there is simply not enough room for all the containers that need to be transported- regardless of price-paid or agreements.
Not Enough Containers Are Available
Even when there is space, companies are having difficulty finding containers to load their products into at origin. The imbalance of containers leaving Asia and all the subsequent delays getting containers to their consignee has severely limited the empty containers getting back to the most common origins where they are needed.
Global Port Congestion
Congestion is at historic levels, with ships often waiting a month or more for unloading.
Up to 30% of the world's shipping capacity has been taken out due to port congestion issues
Time spent waiting at anchor for berths more than doubled since 2019
North America saw the biggest deterioration, increasing from 8 to 33 hours avg. waiting time
Exceptional congestion has been a global problem impacting ports including Shanghai, Yantian, Vietnam, and several in Europe, among others.
Inland Limitations
A shortage of truck drivers is delaying inland moves and other domestic shipping.
Other Persistent Factors Impacting Global Supply Chains
1 – Continuing COVID lockdowns across China, Vietnam, Malaysia, and the region.
2 – Low unemployment has made hiring difficult for many positions at warehouses and ports.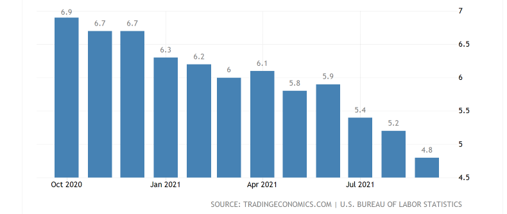 US Unemployment Rate – Last 12 months 
3 – Energy resource shortages have led to rolling power outages in China. And, fuel prices are increasing.
4 – Frequent delays with railroads and bottlenecks at terminals. Causes include, for example, shipments are up 32% YoY into Chicago.
5 – Warehouses capacity is at an all-time low, with vacancy rates as low as 3.6%. One result is storage rates have increased 10 to 50% depending on location.
There Are Some Positive Things Happening That Will Hopefully Provide Some Relief
Anticipated shift in consumer spending to travel and services.
New vessel orders in the first half of 2021 were greater than all of 2019 and 2020 combined.
2021 new container production could reach 4.5 million TEUs, more than double the annual totals in the prior two years and almost 30% above the record set in 2018.
An increase in vaccine distribution in Southeast Asia, with many countries on track to surpass the US according to the WSJ.
The U.S. government has shown intention to address systemic problems, including demurrage and detention. This included a recent meeting with President Biden and the Ports of LA/ Long Beach.
Expanded night and weekend hours at Ports of LA/ Long Beach.