Confronting Supply Chain Challenges
https://www.transmodal.net/wp-content/themes/movedo/images/empty/thumbnail.jpg
150
150
Transmodal
//transmodal.net/wp-content/uploads/transmodal-logo_dsktp2x.png
The pandemic didn't just disrupt consumer behavior, it also sparked a major disruption in manufacturing, shipping, and all aspects of getting new products to market in a cost-effective and timely way. So, how have things changed, and what's the outlook for the future? 
The pandemic has brought attention to how interconnected global supply chains are, and how disruptions in one country or with one shipping mode can have ripple effects throughout the system. The problems companies are experiencing getting products delivered on time and on budget are not unique to any industry or type of business. The situation is very difficult for everyone.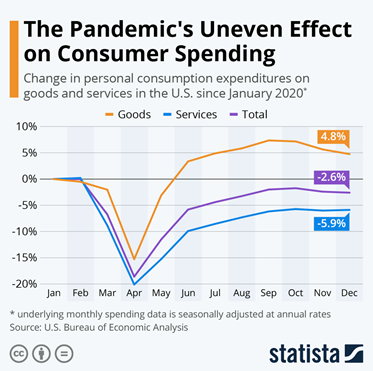 The challenges started with and continue to be driven by consumer demand. And although demand for goods dipped starting in March 2020 during the early days of uncertainty due to the pandemic, it quickly rebounded to above pre-pandemic levels by June 2020.
At that point, supply chains had not recovered to keep up with demand. And, still have not over a year later. This imbalance of demand and "broken" shipping networks has set off a chain of events for global supply chains that the industry is still trying to overcome.
Here are the problems the shipping industry is, or has had to, deal with over the past 18-months that are impacting supply chains today.
Fewer Carrier Options
Leading up to the pandemic, the cumulative effect of five years of ocean carrier consolidation and the creation of only three shipping alliances controlling 95% (just eight companies control 90%) of global container activity shrunk the available carrier options for shippers and BCO's. This has helped to push rates, fees, and surcharges sky-high. For example, contract rates for 90 days and over on China-US West Coast routes are up 92 percent compared with 2019, according to JOC.com.
Not Enough Equipment
A lot of carrier capacity was taken off-line pre-pandemic. The trend had been for accelerated scrapping of older and smaller ships beginning in Q4 2015. This was partially driven by an increase in scrap metal pricing. Today, companies are often not able to get containers to load their products into at origin, and when they do, struggle to find space on ocean vessels – regardless of price-paid or agreements they have with carriers.
And, problems beget more problems. Additional blank/ void sailings happen when forced by any upstream unplanned transit delays. The problems are often magnified as ports operations continue to be frequently disrupted as COVID-related port closings and impacted labor shortages continue to happen, with China and Vietnam impacted most recently.
U.S. Logistics Bottlenecks
U.S. port congestion is at historic levels, with ships often waiting a month or more for unloading. From Spash274.com, Lars Jensen, founder of container consultancy Vespucci Maritime, estimated earlier this month that as much as 10% of the world's shipping capacity has been taken out due to port congestion issues. And, through to May this year the time containerships spent waiting at anchor for berths more than doubled since 2019, according to IHS Markit's port performance data. North America saw the biggest deterioration with vessels spending on average 33 hours on anchor in May 2021 versus an average of just eight hours in May 2019.
A shortage of truck drivers is delaying inland moves and other domestic shipping. This means even once a product reaches U.S. soil its problems aren't over yet. The average annual turnover rate for drivers is about 95% for truckload carriers, the segment of the industry that moves trailer-size shipments long distances, according to a report by CNN.
Several other problems within the U.S. have persisted as well:
A shortage of chassis is delaying containers from ports to inland consignees.
There have been frequent rail delays and bottlenecks due to wildfires and shutdowns, in particular the Pacific NW and Mid-west.
Many warehouses are operating at or near capacity delaying offloading / processing of inbound freight. For example, the high demand and relatively low vacancy rates pushed rents for industrial space to new highs. "Asking rents skyrocketed in Q4 to a record $8.24 per square foot a year, 2.2 percent higher than in Q3 and up 8.3 percent from a year ago. This is the highest rate of annual growth on record," CBRE said in a recent JOC article.
There may be some light at the end of the tunnel for the industry, here are some reasons why:
There is an anticipated shift in consumer spending back to travel and services. Note in the chart above, demand for services severely lagged pre-pandemic levels while demand for goods accelerated. And at the same time, companies are catching up, and inventory levels are being replenished to match demand.
More ships are coming. New vessel order books at highest levels since 2015, and deliveries begin early Q3 2022. And more containers are coming, too. There have been record orders for new containers.
COVID will hopefully get under control. There's been an increase in vaccine distribution in Southeast Asia. And, notably, the U.S. government has its attention on the problem. It's shown intention to address some of the systemic problems, including ocean carrier demurrage and detention.